Government
Must-Have Visual Arts From Florida Art Galleries
Are you planning to get a luxurious type of house regardless of the house size and its interior design?  Well, you can make it happen! Never think that you need millions of money to get a simple yet elegant type of home you could have for your family.  Other people may do rearranging furniture, repaint the inner house, freshen up the linens, plenty mirrors on the wall, and many more. But, without them knowing, in a simple visual art, a home could be elegant already.  Since the living room is the first space which your visitors may see upon entering your home, first and foremost, decorate it well.

It does not mean that you need to put many figurines, frames, photo albums, and the likes upon decorating.  Although the decoration depends on a person's preference, consider that your visitors should feel ease and calmness upon getting in.  The living room is the focal point of your home. If you are satisfied with the visual arts you will decorate, proceed on the other parts of the house already.  Thus, these are the following visual arts from Florida Art Galleries that is a must-have within your home.
"Who are we, exactly?" By Jason Myers
The artwork is coming from Jason Myers.  He is known to have a unique style and technique in his arts.  His technique became highly collectible in the world of contemporary art.  Thus, he as an artist had solidified his prominence in the arts industry. He had significant works which were showed off already at the Polk Art Museum, Scope, Art Miami, and more.  

In his piece of art, it draws out from a wealth personal experience and societal and cultural issues.  His artwork displayed significant figures wandering in psychological landscapes. It is also layered with social and political undertones.  He stated that his subject within this artwork is "ourselves." The artwork is both a combination of metaphor and reflection of people. He added that as humans, people recognize and relate to their thinking way better than any other person.  

The complex, exquisitely and layered produced artwork target to inspire conversation through getting first reactions from the audience who tend to see it.  The Who Are We, Exactly? encourages its audience to contemplate and reflect their being.
Minimalism by Clara Berta
Clara Berta is surrounded by inspiration since as a contemporary abstract artist; she lives in and works in the heart of Los Angeles.  Her making of the Minimalism comes from the inspiration she acquired in the beauty of the Pacific to the fantastic sunsets.  She stated that there is a beauty in all direction she looked at, and sometimes it powers her with energy.  And at last, she felt the need to create a counterbalance of what she felt that leads her to make the artwork.   

This work of artwork she had produces believed to be the most important and most personal piece she made.  It is partially inspired with the simplicity of the philosophy that states "less is more." Other than that, the artwork meant for her.  For Clara Berta, it is a personal expression of her spirituality and her desire to explore the power of art as a healing tool for herself and her collectors.  Her purpose is to heal and silent a cluttered mind.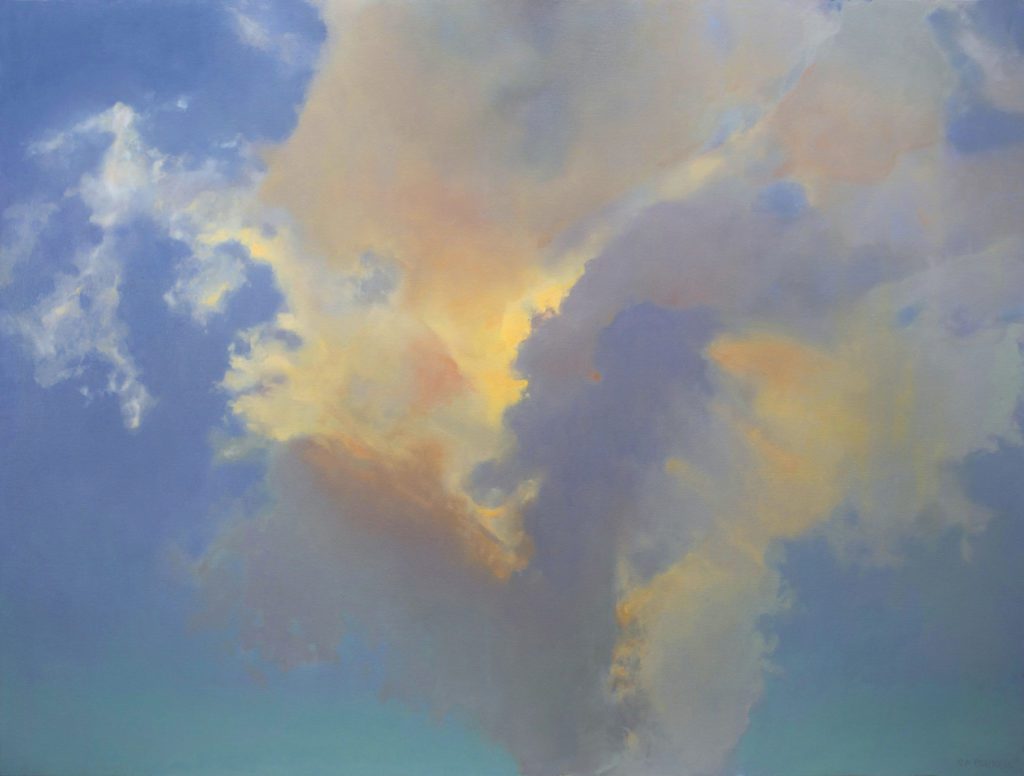 Celina Evening by Cap Pannell
Cap Pannell is one of the most highly expensive artists in the art industry.  His name had stood up already among many museums. Just as recently, her painting named "Fire Tree 2" was accepted into the McKinney, Texas with a "Unique by Nature" competition.  Aside from this, there are also other works of arts which she made that already waved her name in the other country. Her main inspiration to produce a beautiful piece was her mother and father. Also, for her, art is work because it confers content and intense effort.  

In her artworks, she uses oils as a medium.  She does a lot of glazing for a better picture of what she could portray in her piece.  In her Celina Evening, as she elaborated, she was on a car trip along Golf coast together with her sons that aroused her creativity.  The warm moist air forms had incredibly superb clouds. She started to take pictures through the windshield and thought that these would be an impressive piece for her painting.  She just added a little focus on an element which could make the painting to stand out.
Takeaway
Within the given must-have visual arts, the website https://macfineart.com/ could give you more choices of techniques to choose from.  Feel free to visit and start skimming and scanning the offered visual arts.  The price cost of the paintings mentioned above can also be inquired in the given website.  If you have chosen an illustration coming from the elaborated one above, pay it out through the information provided in the site also.